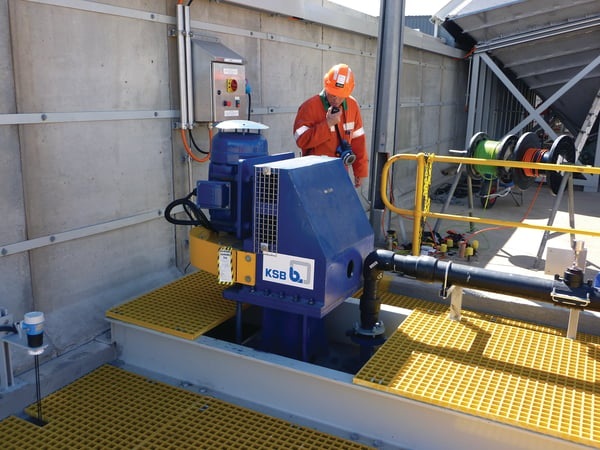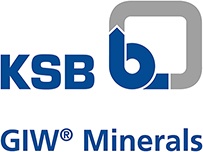 Pump "snoring" or "snore state" refers to a pump's continuous operation despite the absence of liquid. Many pumping operations have collection tanks designed to capture runoff or wash-down liquid and solids. A pump is used to remove that slurry before it overflows into the work area floor. For bottom-suction pumps, shut-off is required when liquid level is below the bottom strainer. In this situation the pump must be primed and turned back on when the liquid level rises. If the prime is lost, the pump vibrates and can experience high levels of mechanical stress, which results in wear and tear over time. To prevent mechanical stress, operators are forced to monitor the pump and manually adjust the liquid level as needed — which can keep them from doing other, more important work.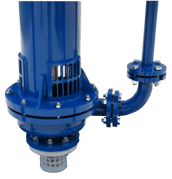 Designed to adapt
GIW's low-maintenance vertical pumps: the ZW Double-Suction Vertical Pumps are easy to operate and are designed to pump through when there is liquid present, and pump idly — or "snore" — when there is not. This is possible thanks to the ZW's "top-and-bottom" design, which allows liquid to flow into both the top and bottom suction areas. The pump lowers the level of the liquid and allows the top suction area to draw in air.

If your cleanup application involves steady-state, or upset conditions, GIW has the solution for you! Get in touch today to learn more.
Unlike a bottom-suction pump, an operator using the ZW does not need to monitor or shut off the pump during upset conditions. Instead, the ZW pump is designed to continue operating with or without liquid. This top- and bottom-suction design allows the pump to provide more consistent action without mechanical stress. In fact, it's an operator's dream because you can just let it run.
The right pump for the job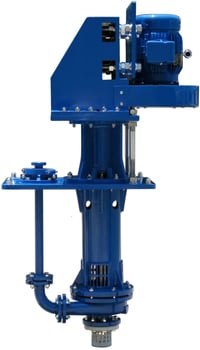 This does not mean that operators should avoid bottom-suction pumps altogether! GIW manufactures the bottom-suction LCV Heavy Duty Vertical pump, which offers high efficiency and suction lift capabilities. Unlike the ZW, the LCV does require some additional controls and monitoring. The LCV is specifically designed for steady-state operating conditions where its high efficiency and suction lift characteristics are better suited.
"The key thing for customers to understand is the importance of selecting the right pump for the job. It can make a world of difference," said Richard Inglett, GIW Product Manager.
Since its introduction, the ZW pump has been a solid performer in applications involving cleanup for waste water, mud, or froth. The ZW can handle a variable flow in a cleanup tank without additional monitoring, and it remains one of GIW's most versatile pumps.